Call Management Software for VoIP Phone Systems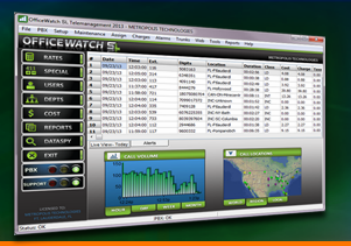 Office Telesystems is an authorized dealer located in the Dallas Fort Worth area for Metropolis Technologies call management system software, designed for both premise based VoIP and digital phone systems. Metropolis Technologies manufactures award-winning call management system software solutions such as OfficeWatch, ProfitWatch and Qlive for Avaya IP Office and other systems. Request a Quote here.
Office Telesystems provides Metropolis call management system software for both small and large business offices as well as hotel or hotel applications alike. Support and upgrades are also available for Metropolis call management software through Office Telesystems.
Metropolis call management software helps businesses across all verticals, including education, healthcare, manufacturing, SMB, financial and government. Over 200 standard and custom reports are available! Benefits shown below can be realized by any size office, or multi office businesses. ProfitWatch for Hotels integrates with all property management systems and is being used at hotels, resorts, spas, casinos, time shares, condo/hotels and cruise lines. Additionally, ProfitWatch is certified for use by some of the largest hotel companies in the world, including Marriott International, InterContinental Hotels Group, Hilton, Choice Hotels and Starwood Hotels.
Why do you need call management system software in your office?
Detect fraudulent phone activity
Reduce labor costs
Receive alerts on defined calls or pattern, 911 notification, fraud, more
Identify your most expensive calls, staff members, call times
Scheduled reporting emailed directly to you
Trunk analysis, determine peak times for line usage, more
Measure campaign response and effectiveness by phone number, time, date, etc.
Multi site reporting
Over 200 report options available!
Office Telesystems provides Metropolis call management software products nationally.